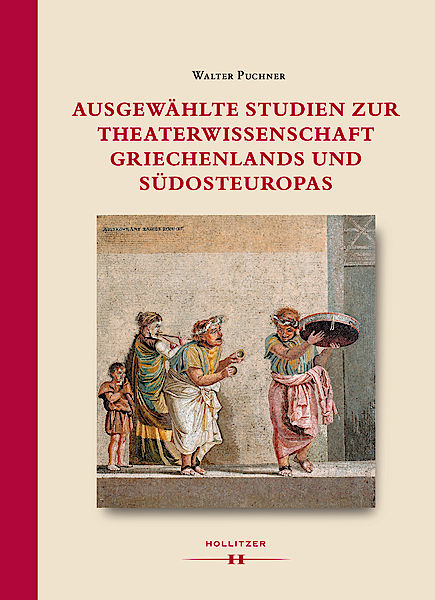 Walter Puchner: Ausgewählte Studien zur Theaterwissenschaft Griechenlands und Südosteuropas, Wien: Hollitzer Verlag, 2018 (Ottomania 7), 728 S., 24,5 x 17,5 cm, Hardcover mit Schutzumschlag

ISBN 978-3-99012-220-4 (hbk) € 99,00
ISBN 978-3-99012-222-8 (epub) € 89,99
ISBN 978-3-99012-221-1 (pdf) € 89,99
Download Cover

Walter Puchner
Ausgewählte Studien zur Theaterwissenschaft Griechenlands und Südosteuropas
Der Band Ausgewählte Studien zur Theaterwissenschaft Griechenlands und Südosteuropas enthält vierzig Beiträge aus einer Zeitspanne von vierzig Jahren (1975-2014) Forschungstätigkeit. Er vermittelt ein facettenreiches Bild der umfangreichen Gesamtproduktion, des Wachsens der Themenbereiche sowie der Entwicklung der Forschungspersönlichkeit des Theaterwissenschaftlers Walter Puchner.
Die inhaltliche Gruppierung der Schriften umfasst: Komparative Thematiken, Antike und Byzanz, Südosteuropa in der Neuzeit, Volksschauspiel und Volkstheater, kretisches, heptanesisches und ägäisches Theater der Renaissance und Barockzeit, Aufklärung und bürgerliches Zeitalter, Moderne und Avantgarde, Nachkriegsdrama und 21. Jahrhundert sowie theoretische Ansätze.
CONTENTS
VORWORT
I. ALLGEMEIN
1. KLASSISCHES THEATER [1999]
2. THE HISTORIOGRAPHY OF THEATRE AFTER EVOLUTIONISM AND
FORMALISM. THE GREEK CASE [2010]
3. SPIELARTEN DES KOMISCHEN IM GRIECHISCHEN THEATER VON 1475 BIS 1975 [1984]
4. DIE INTERMEDIEN IN DER NEUGRIECHISCHEN DRAMATIK. ZUR GESCHICHTE DER INTERPOLIERTEN VORSTELLUNG [1997]
II. KOMPARATIVE THEMATIKEN
5. INFLUSSI ITALIANI SUL TEATRO GRECO [1998]
6. DER FALL KONSTANTINOPELS IN DER EUROPÄISCHEN UND GRIECHISCHEN DRAMATIK [1994]
7. FORMS AND FUNCTIONS OF THE HISTORICAL TRAGEDY AND THE PATRIOTIC DRAMA IN SOUTH EASTERN EUROPE IN THE ERA OF NATIONAL AWAKENING [2004]
III. ANTIKE UND BYZANZ
8. IMPROMPTUS ET MIMES ÉCRITS DANS L'ANTIQUITÉ TARDIVE [2007]
9. BYZANTINISCHER MIMOS, PANTOMIMOS UND MUMMENSCHANZ IM SPIEGEL DER GRIECHISCHEN PATRISTIK UND EKKLESIASTISCHER SYNODALVERORDNUNGEN. QUELLENKRITISCHE ANMERKUNGEN AUS THEATERWISSENSCHAFTLICHER SICHT [1983]
10. QUESTIONING "BYZANTINE THEATRE" [2006]
IV. SÜDOSTEUROPA IN DER NEUZEIT
11. A SHORT OUTLINE OF THEATRE HISTORY OF THE BALKAN PENINSULA [2004]
12. DREI GRIECHISCHE THEATERLEUTE AUF DEM BALKAN IM 19. JAHRHUNDERT [1985]
V. VOLKSSCHAUSPIEL UND VOLKSTHEATER
13. VOLKSSCHAUSPIEL [2011]
14. FASULIS: GRIECHISCHES PUPPENTHEATER ITALIENISCHEN URSPRUNGS AUS DER ZWEITEN HÄLFTE DES 19. JAHRHUNDERTS [1978]
15. LE THÉÂTRE D'OMBRES GREC ET SON AUDITOIRE TRADITIONNEL [1995]
16. THE MAGIC OF SHADOWS. SMALL GUIDE TO KARAGHIOZIS [2004]
17. KRETISCHE RENAISSANCE- UND BAROCKDRAMATIK IN VOLKSAUFFÜHRUNGEN AUF DEN SIEBEN INSELN [1976]
18. KARNEVALSPROZESS UND THEATERTOD DES SABBATAI ZWI IM APOKALYPTISCHEN JAHR 1666 AUF DER INSEL ZANTE [2006]
VI. KRETISCHES, HEPTANESICHES UND ÄGÄISCHES THEATER DER RENAISSANCE UND BAROCKZEIT
19. "KRETISCHES THEATER" ZWISCHEN RENAISSANCE UND BAROCK (ZIRKA 1590–1669). FORSCHUNGSBERICHT UND FORSCHUNGSFRAGEN [1980]
20. EARLY MODERN GREEK DRAMA: FROM PAGE TO STAGE [2007]
21. ZUR GATTUNGSTERMINOLOGIE DER GRIECHISCHEN DRAMATIK VOR 1800 [2000]
22. EIN KYKLADISCHES HERODESSPIEL IN PROSAGRIECHISCH ZUR ZEIT DER TÜRKENHERRSCHAFT IM ARCHIPELAGUS [2002]
23. JESUIT THEATRE ON THE ISLANDS OF THE AEGEAN SEA [2003]
24. PARALIPOMENI ALLO ZENONE [2005]
VII. AUFKLÄRUNG UND BÜRGERLICHES ZEITALTER
25. HOF-, SCHUL- UND NATIONALTHEATER DER GRIECHISCHEN AUFKLÄRUNG IM EUROPÄISCHEN SÜDOSTEN [1975]
26. RIGAS FEREOS E IL TEATRO A VIENNA NEL XVIII SECOLO [1998]
27. ANTONIOS SYMEON ZOGRAPHOS: EIN GRIECHISCHER LIBRETTIST UND KOMÖDIENAUTOR IN VENEDIG ZUR ZEIT DER CADUTA DI SERENISSIMA UND DER FRANZÖSISCHÖSTERREICHISCHEN BESETZUNG (1783–1818) [1999]
28. TRACES OF THE COMMEDIA DELL' ARTE IN MODERN GREEK THEATRE IN THE 18TH & 19TH CENTURY [2004]
29. THE RECEPTION OF AUSTRIA IN MODERN GREEK LITERATURE AND THEATRE [2007]
30. PROBLEMS IN EDITING GREEK DRAMATIC TEXTS OF THE ERA OF VENETIAN AND OSMANIC RULE [2009]
VIII. MODERNE UND AVANTGARDE
31. MODERNISM IN MODERN GREEK THEATRE (1895–1922) [1998]
32. STILFRAGEN DES GRIECHISCHEN THEATERS IM 20. JAHRHUNDERT [1988]
33. DIE TRAGÖDIE "RHODOPE" (1913) VON NIKOLAOS PORIOTIS UND DAS GRIECHISCHE VOLKSLIED [2011]
IX. VOM NACHKRIEGSDRAMA INS 21. JAHRHUNDERT
34. MARGARITA LYMBÉRAKI ET OSKAR KOKOSCHKA. AFFINITÉS REMARQUABLES DANS LE THÉÂTRE D'AVANT-GARDE DU XXE SIÈCLE [2005]
35. MEPHISTOS WEIBLICHE NATUR [2011]
36. LE TOURNANT VERS L'INTÉRIEUR : LA DRAMATURGIE GRECQUE APRÈS LE RETOUR À LA DÉMOCRATIE (1974–1985) [2011]
X. THEORETISCHE ANSÄTZE
37. PERZEPTIVE MULTISTABILITÄT UND AUTOPOIETISCHE FEEDBACK SCHLEIFE. KRITISCHE RANDNOTIZEN ZU ERIKA FISCHERLICHTES ÄSTHETIK DES PERFORMATIVEN [2013]
38. THEATROLOGIA QUO VADIS? [2010]
39. JIŘÍ VELTRUSKÝ, AN APPROACH TO THE SEMIOTICS OF THEATRE, BRNO 2012 [2012]
40. THEATER JENSEITS DER ZEICHEN [2010]
XI. ANHANG
SCHRIFTENVERZEICHNIS DES AUTORS