Theatre Topography and Repertoire
The series Theatre Topography and Repertoire is a product of the cooperation with Paul S. Ulrich. The collection of the bibliographer and theatre historian from Berlin about theatre almanachs and journals has been digitized and made available via an online catalogue (www.theaterjournale.at).
The cooperation partners are convinced, that although the presentation of data in digital form is desirable since it makes certain aspects of research easier, nevertheless it is equally important to present the material in print: the full awareness of the complexity of the material is much more apparent in a printed form, and this awareness can never be achieved in online searches. This is the main goal of Theatre Topography and Repertoire.
Series Editors: Paul S. Ulrich, Andrea Gruber, Matthias J. Pernerstorfer
ISSN 2617-3603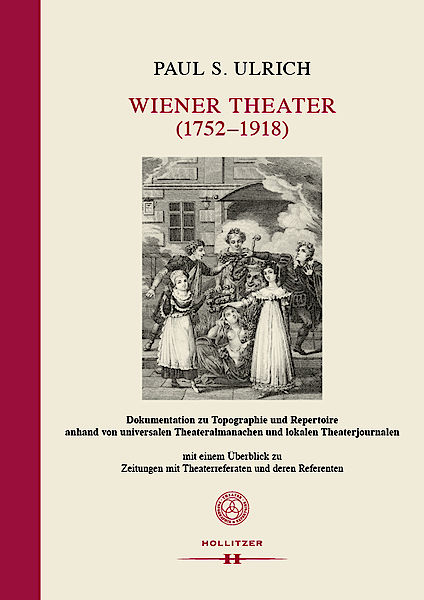 Paul S. Ulrich
Wiener Theater (1752-1918)
Dokumentation zu Topographie und Repertoire anhand von universalen Theateralmanachen und lokalen Theaterjournalen mit einem Überblick zu Zeitungen mit Theaterreferaten und deren Referenten
Paul S. Ulrich: Wiener Theater (1752-1918). Dokumentation zu Topographie und Repertoire anhand von universalen Theateralmanachen und lokalen Theaterjournalen mit einem Überblick zu Zeitungen mit Theaterreferaten und deren Referenten, Wien: Hollitzer Verlag, 2018, 416 S., 21 x 29,7 cm, Deutsch, Hardcover

ISBN 978-3-99012-449-9 (hbk) € 99,00