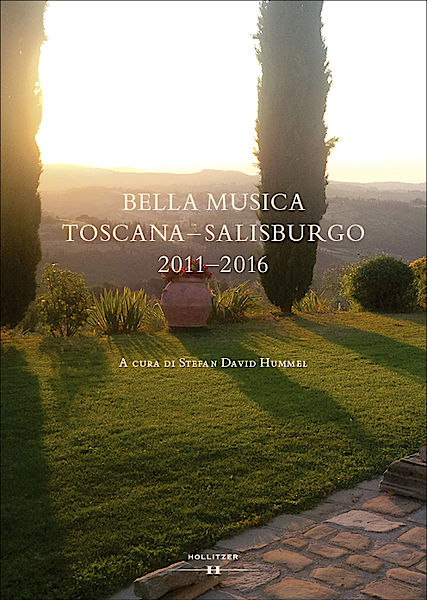 Stefan David Hummel (a cura di) / collana diretta da H. E. Weidinger: BELLA MUSICA TOSCANA-SALISBURGO 2011-2016, Wien: Hollitzer Verlag, 2017 (Cintoia ∙ Greve ∙ Chianti 6), 496 p., testi in italiano/tedesco/inglese, copertina rigida

ISBN 978-3-99012-446-8 (hbk) € 29,90
Download Cover

Stefan David Hummel
BELLA MUSICA TOSCANA-SALISBURGO 2011-2016
Das Projekt BELLA MUSICA TOSCANA-SALISBURGO spürt gemeinsamen historischen historischen Wurzeln nach, indem es junge Musizierende aus beiden Regionen zusammenführt. Im Jahre 2016 wurde das Projekt in das Pre-College der Universität Mozarteum Salzburg aufgenommen; seit 2017 unter dem neuen Namen BELLA MUSICA - ORCHESTRA GIOVANILE EUROPEA, folgt es nunmehr als "Junger Botschafter der Musik" den Europäischen Mozartwegen.
Il progetto BELLA MUSICA TOSCANA-SALISBURGO riflette le comuni radici storiche facendo incontrare giovani musicisti di entrambe le regioni. Nel 2016 fu assunto nel Pre-College dell'Università Mozarteum Salisburgo; dal 2017, sotto il nuovo nome BELLA MUSICA - ORCHESTRA GIOVANILE EUROPEA, i suoi musicisti seguno come "giovani ambasciatori della musica" le vie europee di Mozart.
The project BELLA MUSICA TOSCANA-SALISBURGO incorporates young musicians from both regions, thus reflecting the common historic roots. In 2016, the orchestra was received in the Pre-College of the Mozarteum University Salzburg; as of 2017, under the new name BELLA MUSICA - ORCHESTRA GIOVANILE EUROPEA, its members continue as "young ambassadors of music" to trace Mozart's way across Europe.
CONTENTS
Auszeichnung und Gratulation der Präsidenten von Italien und Österreich
Onorificenze e congratulazioni da parte dei Presidenti delle Repubbliche d'Italia e d'Austria
STATEMENTS
Der Wegbereiter / L'Antesignano
Die Regionen / Le Regioni
Die Städte / Le Città
Die Institutionen / Le Istituzioni
BELLA MUSICA TOSCANA-SALISBURGO: DAS MUSIKPROJEKT / IL PROGETTO MUSICALE
Historische Verbindungen zwischen der Toskana, Salzburg und Österreich
I rapporti storici fra la Toscana, Salisburgo e l'Austria
KUNO TRIENTBACHER
Von der Idee zur Realisierung
Dall'idea alla realizzazione
STEFAN DAVID HUMMEL
Musikalische Wahlverwandschaften zwischen Salzburg und Greve
Affinità elettive musicali fra Salisburgo e Greve in Chianti
SABRINA ACQUARELLI
Erfahrungen aus den ersten beiden Projektjahren
Esperienze fatte durante i primi due anni del progetto
ROSALBA LO PARO
Erfahrungen aus dem dritten Projektjahr
Esperienze fatte durante il terzo anno del progetto
AN ROOS
Reflexionen zum Projekt
Riflessioni personali sul progetto
LUCA RINALDI
Der Förderer: Stvdivm fÆsvlanvm und die Firmengruppe HOLLITZER
L'ente promotore: Stvdivm fÆsvlanvm e il gruppo HOLLITZER
KUNO TRIENTBACHER, MATTHIAS J. PERNERSTORFER, MICHAEL HÜTTLER
BELLA MUSICA: Die Saisonen / Le Stagioni
2011/2012
2012/2013
2013/2014
2014/2015
2015/2016
Teilnehmer / Partecipanti
Ausblick / Prospettive
STEFAN DAVID HUMMEL
Das letzte Wort den Schülern / Ai giovani l'ardua sentenza
The Third Language
Honour and Congratulations from the Presidents of Italy and Austria
Statements
The Progenitor
The Regions
The Cities
The Institutions
The Grassroots Cultural Music Project BELLA MUSICA TOSCANA-SALISBURGO
The Historical Ties Between Tuscany, Salzburg and Austria
KUNO TRIENTBACHER
From the Idea to Its Realisation
STEFAN DAVID HUMMEL
Musical Elective Affinities between Salzburg and Greve in Chianti
SABRINA ACQUARELLI
Experiences from the First Two Years of the Project
ROSALBA LO PARO
Experiences in the Thrid Year of the Project
AN ROOS
Reflections on the Project
LUCA RINALDI
The Sponsor: Stvdivm fÆsvlanvm and the HOLLITZER Group
KUNO TRIENTBACHER, MATTHIAS J. PERNERSTORFER, MICHAEL HÜTTLER
Perspectives
STEFAN DAVID HUMMEL
The Students Have The Last Word
Anhang / Appendice / Addendum
Biographien / Biografie / Biographies
Matthias J. Pernerstorfer
Abbildungsverzeichnis / Elenco delle illustrazioni / Reproduction List