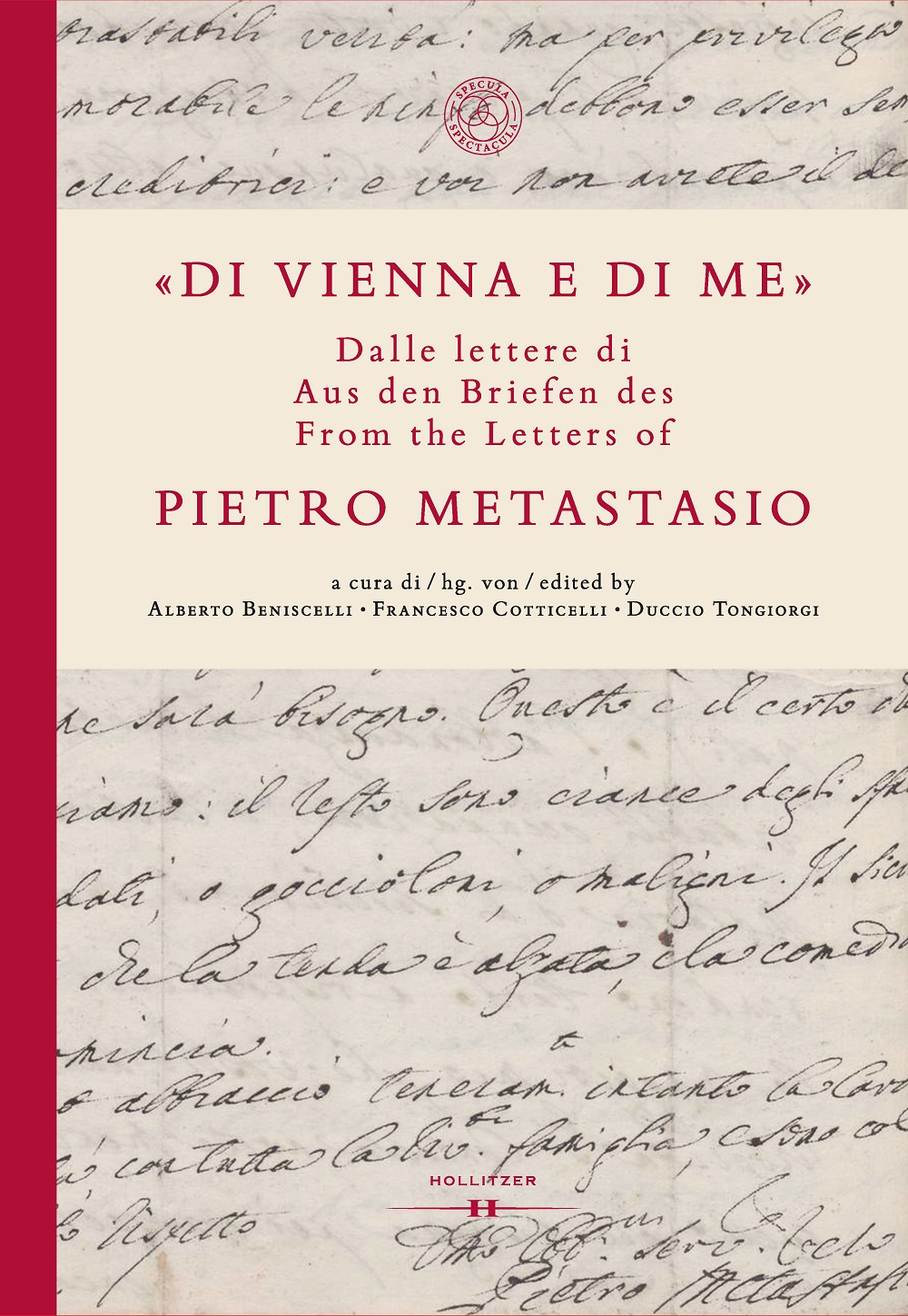 Alberto Beniscelli, Francesco Cotticelli, Duccio Tongiorgi: «Di Vienna e di me» Dalle lettere di / Aus den Briefen von / From the Letters of Pietro Metastasio, Wien: Hollitzer Verlag, 2021 (Specula Spectacula 12), 188 S., 17 x 24 cm, Italian, German, English, Hardcover mit Schutzumschlag

ISBN 978-3-99012-860-2 (hbk) € 40,00
ISBN 978-3-99012-861-9 (pdf) € 39,99
Download Cover

Alberto Beniscelli , Francesco Cotticelli , Duccio Tongiorgi
«Di Vienna e di me»
Dalle lettere di / Aus den Briefen von / From the Letters of Pietro Metastasio
Nel corso della sua vita Metastasio tenne corrispondenza con numerose personalità appartenenti ai contesti più disparati; queste lettere private riguardano ogni ambito della sua opera, riflettendo i valori della società, le convenzioni e il complesso scambio culturale del XVIII secolo. I testi raccolti in questo volume offrono uno sguardo sulle molteplici sfere d'azione del Metastasio uomo di lettere e di cultura. Raccontano della creatività artistica del poeta cesareo, della sua partecipazione attiva alla vita intellettuale del suo tempo, e della fine dell'ancien régime, unita alla consapevolezza della caducità di ogni cosa.
Im Laufe seines Lebens korrespondierte Pietro Metastasio mit zahlreichen Persönlichkeiten aus unterschiedlichen Milieus; dieser Schriftverkehr betraf alle Bereiche seines Schaffens und spiegelt gesellschaftliche Werte, Konventionen und den komplexen Kulturaustausch im 18. Jahrhundert wider. Die in diesem Band ausgewählten Briefe geben einen Einblick in die vielschichtigen Wirkungskreise des Literaten und Universalgelehrten Metastasio. Sie berichten von der künstlerischen Kreativität des Hofpoeten, von seiner aktiven Teilnahme am intellektuellen Leben seiner Zeit, sowie vom Ende des ancien régime, das mit dem Bewusstein der Vergänglichkeit aller Dinge einher ging.
In the course of his life, Pietro Metastasio corresponded with numerous personalities from different milieus; this private correspondence concerned all areas of his creative work, reflecting the social values, onventions, and complex cultural exchanges of the eighteenth century. The letters selected provide insight into the multi- layered spheres of activity of the literary figure and polymath Metastasio. They chronicle the artistic creativity of the court poet and his active participation in the intellectual life of his time, but also the end of the ancien régime, coupled with an awareness of the transience of all things.
INHALT
INDICE / INHALT / CONTENT
ANDREA LANZOLA
Pietro Metastasio (1698–1782) Biografia
Pietro Metastasio (1698–1782) Biographie
Pietro Metastasio (1698–1782) Biography
SAGGI / STUDIEN / ESSAYS
ALBERTO BENISCELLI
Itinerari per lettera. Metastasio, Vienna, l'Europa
Briefreisen. Metastasio, Wien, Europa
Journeys by Letters. Metastasio, Vienna, Europe
ANDREA SOMMER-MATHIS
Pietro Metastasio a Vienna.
Il poeta cesareo 'servitore di tre padroni'
Pietro Metastasio in Wien.
Der kaiserliche Hofdichter als 'Diener dreier Herren'
Pietro Metastasio in Vienna.
The Imperial Laureate as 'Servant of Three Masters'
FRANCESCO COTTICELLI
Metastasio e l'epistolario.
Una vita per il teatro, un teatro della vita
Metastasio und die Briefsammlung.
Ein Leben für das Theater, ein Theater des Lebens
Metastasio and His Letters.
A Life for Theatre, a Theatre of Life
RAFFAELE MELLACE
"Le nozze del piacere con la ragione".
La voce dell'uomo di teatro
"Die Vermählung von Vergnügen und Vernunft".
Die Stimme des Theatermannes
"The Marriage of Pleasure and Reason".
The Voice of the Man of the Theatre
LETTERE / BRIEFE / LETTERS
LUCA BELTRAMI
Tra le lettere "viennesi" di Pietro Metastasio
Streifzug durch die "Wiener Briefe" von Pietro Metastasio
Delving through Pietro Metastasio's "Viennese" Letters
IMMAGINI E TRASCRIZIONI
ABBILDUNGEN UND TRANSKRIPTIONEN
REPRODUCTIONS AND TRANSCRIPTIONS
I Metastasio a Marianna Benti Bulgarelli, 6 VI 1733
II Metastasio a Girolamo Luigi Malabaila Conte di Canale, 13 X 1741
III Metastasio a Anna Francesca Pignatelli di Belmonte, 17 VI 1749
IV Metastasio a Niccolò Jommelli, 8 IV 1750
V Metastasio a Giovanni Giuseppe Trautson di Falkenstein, III 1755
VI Metastasio a Leopoldo Trapassi, 26 VII 1762
VII Metastasio a Saverio Mattei, 7 V 1770
VIII Metastasio a Carlo Broschi Farinello, 20 III 1782
IX Metastasio a una Eccellenza, s.d.
DIDASCALIE / ABBILDUNGSVERZEICHNIS / CAPTIONS
BIBLIOGRAFIA SCELTA
AUSWAHLBIBLIOGRAPHIE
SELECTED BIBLIOGRAPHY
GIANFRANCA LAVEZZI