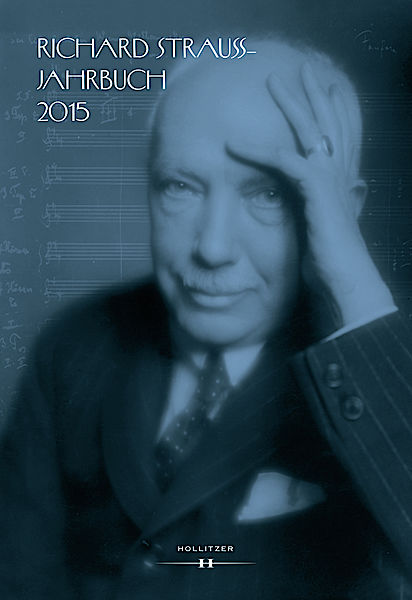 Internationale Richard Strauss-Gesellschaft in Wien (Hg.): Richard Strauss-Jahrbuch 2015, Wien: Hollitzer Verlag 2017, 195 S., 16,5 x 24 cm, Deutsch, Softcover

ISBN 978-3-99012-358-4 (pbk) € 45,00
Download Cover

Internationale Richard Strauss-Gesellschaft in Wien
Richard Strauss-Jahrbuch 2015
Mit den Strauss-Texten des vorliegenden Bandes kommen Vorträge zum Abdruck, die während des Symposions "Richard Strauss und die Musik des 20. Jahrhunderts" am 19. September 2014 an der Universität Greifswald (im Rahmen der Jahrestagung der Gesellschaft für Musikforschung) gehalten wurden. Im Jubiläumsjahr 2014 ein Symposion Richard Strauss zu widmen, ist nicht weiter überraschend. Ein Strauss-Symposion zu diesem Thema hingegen erscheint keineswegs als selbstverständlich. Strauss im 20. Jahrhundert zu verorten, ihm in der Musikhistoriographie dieses Saeculums angemessenen Raum zu geben, ist noch immer kein einfaches Geschäft.
Informationen zur Reihe Richard Strauss-Jahrbuch
Richard Strauss-Jahrbuch is abstracted and indexed in RILM Abstracts of Music Literature.
Its full-text content is available electronically through RILM Abstracts of Music Literature with Full Text.
CONTENTS
Einführung // Walter Werbeck (Greifswald)
"Nachdenken ist immer unangenehm": Romanticism, Modernism, and Goethe in Strauss's Aesthetics ca. 1900 // Charles Youmans (Pennsylvania)
Egomanen unter sich: Strauss vs. Schönberg //Reinhard Kapp (Wien)
"Entfernung aus der Mitte"? Strauss und der Neoklassizismus // Giselher Schubert (Hameln)
"Nach allen ästhetischen und philosophischen Maßstäben, die wir anlegen müssen, war er kein Mann unserer Zeit." Über ein zentrales Motiv der Strauss-Rezeption der Nachkriegsjahre mit einem Blick auf die Aufführungsgeschichte von Capriccio // Dörte Schmidt (Berlin)
Strauss' späte Werke, der Mythos und das 20. Jahrhundert // Giangiorgio Satragni (Torino)
Richard Strauss und das Nationalsozialistische Deutschland - Anmerkungen zu einem vieldiskutierten Thema // Jürgen May (Garmisch-Partenkirchen)
Richard Strauss in der Musikhistoriographie des 20. Jahrhunderts. Bericht über einen Prozess mit offenem ausgang // Tobias Janz (Kiel)
Elektra: Ein durch und durch strukturiertes Werk. Musikalische Struktur durch dynamische Motive // Heinz Irrgeher (Wien)
Von Jerusalem nach Japan - Nicht nur Orientalismus in Salome und Frau ohne Schatten // Volker Mertens (Berlin)
Aufführungsberichte, Nachrichten und Mitteilungen
Buchbesprechungen (G. Brosche, O. Panagl)
Die Mitglieder der Internationalen Richard Strauss-Gesellschaft