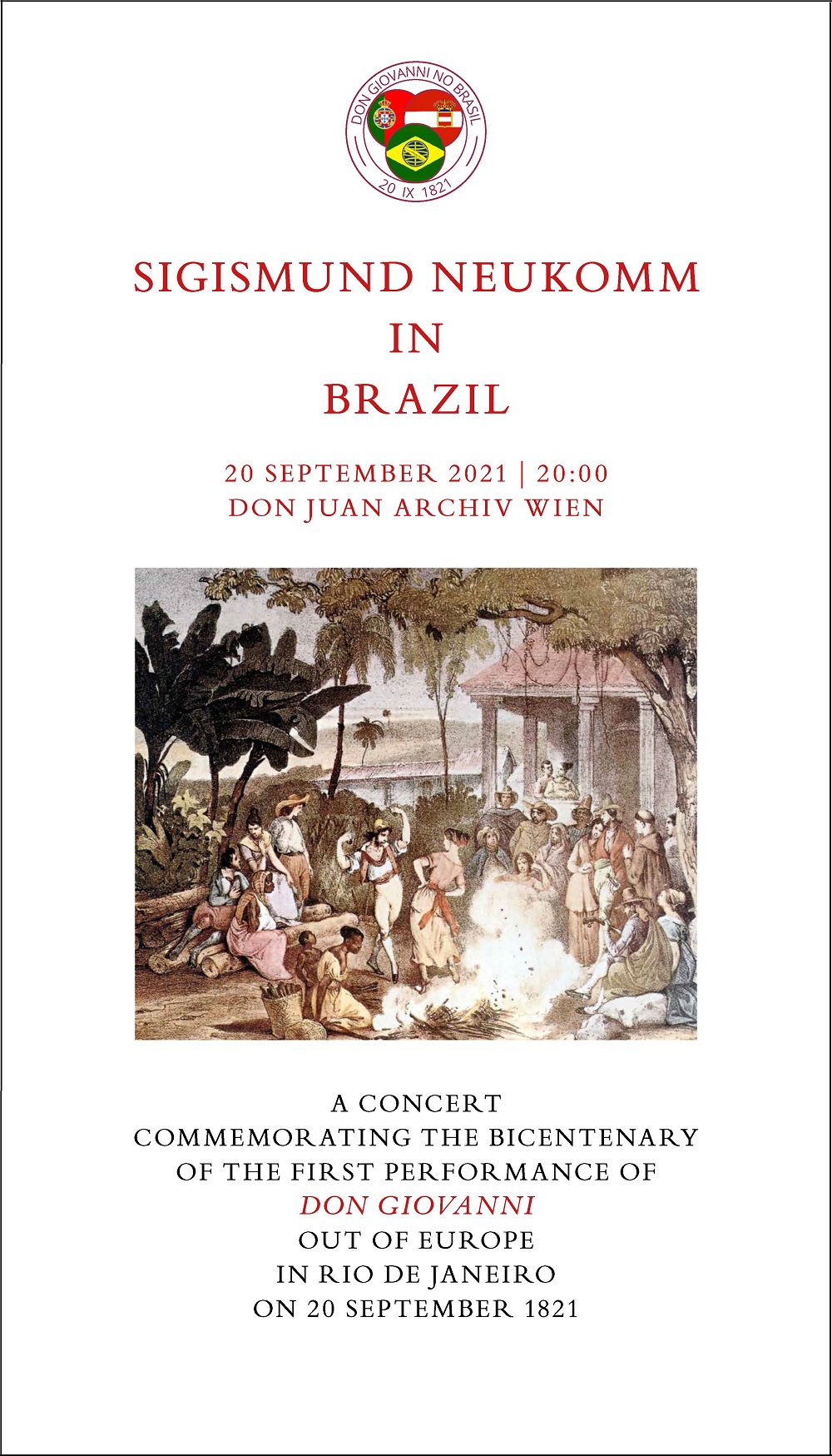 Reinhard Eisendle, Matthias J. Pernerstorfer, Suna Suner / Don Juan Archiv Wien (eds.): Sigismund Neukomm in Brazil. A Concert Commemorating the Bicentenary of the first performance of DON GIOVANNI out of Europe in Rio de Janeiro on 20 September 1821, Wien: Hollitzer Verlag, 2021, 84 S., 21 x 12 cm, English, Softcover

ISBN 978-3-99012-972-2 (pbk) € 12,00
ISBN 978-3-99012-975-3 (pdf) € 11,99
Download Cover

Reinhard Eisendle , Matthias J. Pernerstorfer , Suna Suner
Sigismund Neukomm in Brazil
A Concert Commemorating the Bicentenary of the first performance of DON GIOVANNI out of Europe in Rio de Janeiro on 20 September 1821
On the "Rio Don-Giovanni-Day", 20 September 2021, a concert is dedicated to the works of Sigismund Neukomm composed in and for Brazil.

The programme also includes a composition by the Brazilian composer José Maurício Nunes Garcia (Rio 1767–1858), highly esteemed by Neukomm and occasionally described as "the Brazilian Mozart". He conducted the first performance of Mozart's Requiem with Neukomm's "Libera me" in the Igreja Nossa Senhora do Parto on 19 December 1819.

The concert is a cooperation of Don Juan Archiv Wien with partners in Austria, Portugal, and Brazil: the Mozarteum University Salzburg, Divino Sospiro – Centro de Estudos Musicais Setecentistas de Portugal, and Musica Brasilis.

Accordingly, the music will be performed in four locations: Vienna, Salzburg, Queluz/Lisbon, and Rio de Janeiro. While the partnering institutions' concerts with commentaries are recorded especially for this occasion, the performances in Vienna will be broadcast live.
INHALT
PROGRAM
Welcome Greetings
Matthias J. Pernerstorfer
Don Juan Archiv Wien

David Schriffl
Austria Foreign Ministry,
Department of International Cultural Affairs

H. E. Ambassador
José Antônio Marcondes de Carvalho
Embassy of Brazil in Austria

H. E. Ambassador
António de Almeida Ribeiro
Embassy of Portugal in Austria
Introductory Words
Reinhard Eisendle
Don Juan Archiv Wien
Moderation of the Concert
Suna Suner
Don Juan Archiv Wien
Sigismund Neukomm
Theme de Kozeluch varié pour le Piano forte
avec accompagnement de Violoncello
dedié à
S. A. R Madame la Princesse Carolina-Leopoldina
Rio de Janeiro 1817
Piano Hannah Eisendle
Cello Rodrigo Sámano Albarrán
Live at
Parlour, Don Juan Archiv, Wien
Sigismund Neukomm
Missa Sancti Johannis
written in Paris 1816
for Rio de Janeiro
World premiere
Conductor Ricardo Bernardes
Soloists and Choir of Ensemble Americantiga
Orchestra Divino Sospiro
Recorded at the
Throne Room, Palácio Real, Queluz
Wolfgang Amadeus Mozart
Missa brevis in F-major
KV 192
Credo
Salzburg 1774
Conductor Massimo Mazzeo
Soloists and Choir of Ensemble Americantiga
Orchestra Divino Sospiro
Recorded at the
Throne Room, Palácio Real, Queluz
Sigismund Neukomm
O Amor Brasileiro
Caprice pour Pianoforte sur un londu Brésilien
dedié à
Mademoiselle Donna Maria Joanna de Almeida
Rio de Janeiro 1819
Piano Hannah Eisendle
Live at
Parlour, Don Juan Archiv, Wien
José Maurício Nunes Garcia
Laudate Dominum
Rio de Janeiro 1813
Conductor Franz Obermair
Soprano Bettina Meiners
Alto Tamara Obermair
Tenor Konstantin Igl
Bass Benjamin Sattlecker
Organ Aleksei Grots
Canto Mozarteum vokalEnsemble
Supervision Jörn Hinnerk Andresen
Coordination Stefan David Hummel
Recorded at the
Augustinian Friars' Church in Mülln, Salzburg
Sigismund Neukomm
Nocturne
for piano, violin and cello
(also arranged for piano, oboe and horn)
dedié à
Mme. Marie Thérèse, Princesse de Beira
Rio de Janeiro 1817
Piano Rosana Lanzelotte
Violin Tomaz Soares
Cello Marcus Ribeiro
Recorded at the
Church of the Ordem Terceira
de São Francisco da Penitência,
Rio de Janeiro
Sigismund Neukomm
Sonate pour le Pianoforte
avec accompagnement de Violon
dedié à
S.A.R. Mme la Comtesse Marie Therèse
Rio de Janeiro 1819
Piano Rosana Lanzelotte
Violin Tomaz Soares
Percussion Adam Lee
Recorded at the
Church of the Ordem Terceira
de São Francisco da Penitência,
Rio de Janeiro
Sigismund Neukomm
Räthsel-Canon für 8 Stimmen
Rio de Janeiro 1821
Conductor Franz Obermair
Soprano Bettina Meiners
Alto Tamara Obermair
Tenor Konstantin Igl
Bass Benjamin Sattlecker
Organ Aleksei Grots
Canto Mozarteum vokalEnsemble
Supervision Jörn Hinnerk Andresen
Coordination Stefan David Hummel
Recorded at the
Augustinian Friars' Church in Mülln, Salzburg
Hannah Eisendle
O Amor Brasileiro II
Composition for piano and electronics
Vienna 2021
World premiere
Piano Hannah Eisendle
Live at
Parlour, Don Juan Archiv, Wien
Hannah Eisendle &
Rodrigo Sámano Albarrán
Improvisation on Neukomm's Kozeluch-Variations
Vienna 2021
Piano Hannah Eisendle
Cello Rodrigo Sámano Albarrán
Live at
Parlour, Don Juan Archiv, Wien