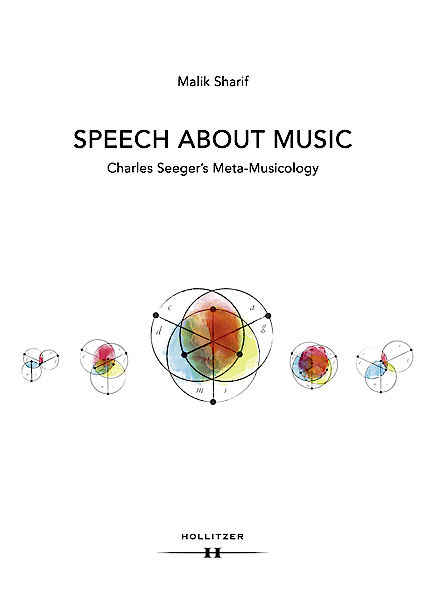 Malik Sharif: Speech about Music. Charles Seeger's Meta-Musicology, Wien: Hollitzer Verlag, 2019, 297 Seiten, 17 x 24 cm, English, Hardcover

ISBN 978-3-99012-559-5 (hbk) € 50,00
ISBN 978-3-99012-560-1 (pdf) € 44,99
Download Cover

Malik Sharif
Speech about Music
Charles Seeger's Meta-Musicology
The US American musicologist, composer, philosopher, inventor, and political activist Charles Seeger (1886–1979) is a key figure in the development of twentieth-century musicology. Speech about Music is an in-depth study of his philosophical theory of musicology – his meta-musicology. Seeger developed this body of theory in numerous publications over the course of more than sixty years, yet he never realized his dream of creating a comprehensive "Principia Musicologica".
Detailed historical reconstruction and comparative analysis of Seeger's meta-musicology makes Speech about Music an important contribution to the study of the history of musicology. By approaching Seeger's theory as an arsenal of ideas in the discussion of twenty-first century meta-musicological issues, the book is also a critical examination of the pertinence of Seeger's ideas.
INHALT
List of Figures
List of Acronyms
Acknowledgements
1. Introduction
1.1 Situating the Author: An Exercise in Scholarly Reflexivity
1.2 Situating the Text: Why Write a Book on Charles Seeger?
1.3 The Scope, Aim, Approach, and Content of This Study
1.4 Some Remarks on Central Terms and Concepts
1.5 Objections and Replies
2. Charles Seeger's Biography
2.1 Charles Seeger's Early Life
2.2 Professor of Music in Berkeley
2.3 The New York Years
2.4 Work for National and International Agencies in Washington
2.4.1 New Deal Agencies
2.4.2 The Inter-American Music Center
2.4.3 Scholarly Work during the Washington Years
2.5 Researcher in California
2.6 Final Years in New England
3. Early Meta-Musicology
3.1 Meta-Musicology in Berkeley
3.2 The Linguocentric Predicament
3.3 Outline of a Musicological Agenda
3.4 Musicological Disciplinarity
3.5 Musicology's Raison d'Être
3.6 Earlier and Contemporary Meta-Musicological Positions
3.6.1 Friedrich Chrysander
3.6.2 Guido Adler
3.6.3 Hugo Riemann
3.6.4 Waldo S. Pratt
3.6.5 Comparative Discussion
3.7 Philosophical Foundations
4. Meta-Musicology from the 1930s to the 1950s
4.1 Music and Language
4.2 Musicology
4.2.1 Science and Criticism
4.2.2 Systematic Musicology and Historical Musicology
4.2.3 Synopsis and Research
4.2.4 Pure Musicology and Applied Musicology
4.3 Contemporary Meta-Musicological Positions
4.3.1 Karl Gustav Fellerer
4.3.2 Jacques Handschin
4.3.3 Comparative Discussion
5. Toward a Unitary Field Theory for Musicology: Late Meta-Musicology
5.1 Seeger and the Rise of Ethnomusicology
5.2 Music, Speech, and Other Modes of Communication
5.3 Musicology and the Musicological Juncture
5.4 Musicological Disciplinarity
5.4.1 Music Viewpoint and General Viewpoint
5.4.2 Systematic Orientation and Historical Orientation
5.4.3 Scientific Method and Critical Method
5.4.4 The Center, Periphery, and Neighborhood of Musicology
5.5 The Aims and Ends of Musicology
5.6 Contemporary Meta-Musicological Debates
5.6.1 Criticism versus Positivism
5.6.2 Historische Musikwissenschaft versus Systematische Musikwissenschaft
6. A Seegerian Philosophy of Musicology for the Twenty-First Century
6.1 Musicology: Basic Premises and Definitions
6.2 Musicology as an Ideal Discipline
6.3 The State of Music Studies in the Early Twenty-First Century
6.4 Musicological Ideals and the Real World
7. Utopias of Twenty-First Century Musicologies
7.1 Unidisciplinarity
7.2 Interdisciplinarity
7.3 Post- and Transdisciplinarity
8. Conclusion: Beyond Meta-Musicology
9. References Cited