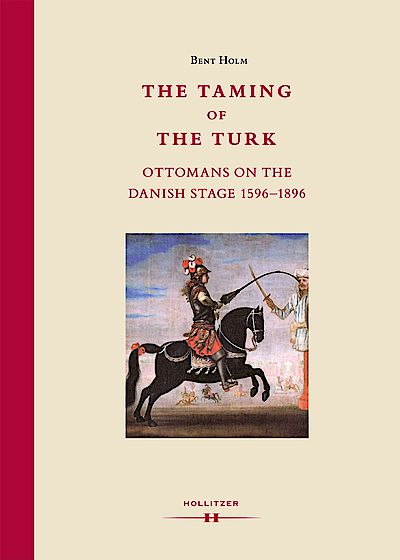 Bent Holm: The Taming of the Turk: Ottomans on the Danish Stage 1596-1896, Translated from the Danish by Gaye Kynoch, Vienna: Hollitzer Verlag 2014 (Ottomania 2), 348 pages, 24 x 17 cm, English, hardcover with dustjacket

ISBN 978-3-99012-118-4 (hbk) € 55,00
ISBN 978-3-99012-120-7 (epub) € 39,99
ISBN 978-3-99012-119-1 (pdf) € 39,99
Download Cover

Bent Holm
The Taming of the Turk: Ottomans on the Danish Stage 1596-1896
For centuries the figure of 'the Turk' spread fascination and fear – in the theatre of war and on the theatrical stage. On the one hand, 'the Turk' represented a spectacular dimension, an imaginary world of pirates, sultans and odalisques; on the other hand, he stood for the actual Ottoman Empire, engaged in long-lasting confrontations and exchanges with Occidental powers. When confronted with historical circumstances – military, commercial and religious – the cliché image of 'the Turk' dissolves in complex combinations of potential references.
The Taming of the Turk: Ottomans on the Danish Stage 1596–1896 elucidates, for the first time, three centuries of cultural history as articulated in dealings between the Kingdom of Denmark and the Ottoman Empire seen in a general European context. From the staging of 'the Turk' as a diabolical player in royal ceremonies of early modern times, to the appearance of harmless 'Turkish' entertainment figures in the late nineteenth century. Artistic, theatrical and theological conceptions co-act in paradoxical ways against a backdrop of pragmatic connections with the Ottomans.
The story of this long-forgotten connection between a small northern-European nation and a mighty Oriental empire is based on a source material – plays, paintings, treaties, travelogues etc. – that has hitherto chiefly been neglected, although it played a significant role in earlier times. The images of 'exotic' figures sometimes even turn out to be self-images. The documents hold the keys to a number of mental and fundamental (pre)conditions, and thus even to imagery constructions of our day.
CONTENTS
Introduction
Perceptions of 'the Turk'
Them and Us
The Graveyard of Culture – the Scrapheap of History
The Kaleidoscope of History
Identity and Staging
Images and Voices
Chapter 1
Sixteenth and Seventeenth Centuries: Conspiracy and Apocalypse
War and Coronation
The Turk and the Pope
Heresy and Nonbelief
The Tamed Turk
Popular Belief and 'the Enemy'
Chapter 2
The Eighteenth Century: Parody and Pedagogy
War and Masquerade
Parody and Paranoia
The Commercial Stage
The Theatrical Stage
The New Turk
The Turk in Paris
The Turk in Vienna
The Turk in Copenhagen
The Dane and the Turk
The Christian Knight
Nation at War
The Swede and the Turk
The Turk and the People
The Real Seraglio
Far from Farce?
Chapter 3
The Nineteenth Century: Carnival and Casino
Exotic Romanticism
The Turk in the Cage
Portrait of the Artist as Young Woman
The Near East
The Pope, the Turk and the German
Far from Denmark?
Harem and History
Afterword
Synthesis and Retraction
Interplay and Openness
Symbol and Stereotype
Prophecy and Polyphony
Appendix
Select Bibliography
Index